St. Louis Personal Injury Law Firm
Knowledgeable attorneys personally invested in your recovery
You or a loved one has been in an accident. Someone has been seriously injured or perhaps even killed. You believe it to be the fault of somebody else. You have questions. Insurance company representatives are calling you. You may have even tried to hire a St. Louis injury lawyer, but legal advertising doesn't tell you anything about the lawyer or law firm's qualifications.
Welcome to the DeVoto Law Firm. For more than 40 years, we have dedicated ourselves to winning full compensation for injured plaintiffs. We have a record of success in St. Louis personal injury cases that includes several verdicts and settlements in excess of one million dollars. Our firm is characterized by prompt action, thorough investigation, in-depth preparation, vigorous litigation and skilled negotiation. We are prepared to assist you or your loved ones on matters related to:
Natural gas and propane explosions
Tanker truck explosions
Multilevel product failures
Defective cars
Defective consumer products
Defective industrial tools

Defective design
Inadequate warning cases
Amusement park injuries
Brain, spinal or burn injuries
Attorney Tom DeVoto: "Dedicated to you, because it's happened to me"
While many lawyers fall into their areas of focus accidentally, I came to be a St. Louis personal injury attorney as the result of an accident. In 1972, my father was struck and killed by a young driver who had been drinking and was under the influence of alcohol. He was only 47. That accident tore a hole in my family that has never been filled. I know what it's like to miss a family member. As a St. Louis auto accident attorney, I take particular satisfaction in bringing drunken drivers, and drivers under the influence of drugs, to justice. In 2001, my daughter suffered a serious head injury in a traffic accident caused by the defective design and maintenance of a highway. Although she is doing remarkably well today, I watched her endure many years of continuous rehabilitation during her slow, painful recovery. Finally, because of my own back injury and subsequent surgery, I understand what it means to be in chronic pain, unable to work, to endure long physical therapy and to face a change in lifestyle. If you're looking for a St. Louis personal injury attorney who will make your case his cause, call our St. Louis personal injury office today.
Contact our St. Louis attorneys for a free consultation and case evaluation
To schedule a free consultation and case evaluation, call the DeVoto Law Firm any time day or night at or contact us online. We can arrange evening and weekend consultations, and we come to you if you are badly injured. All injury cases are managed on a contingency basis, so there are no upfront legal fees and you pay us nothing until we obtain compensation for your injuries.
Introductory / Personal Injury Video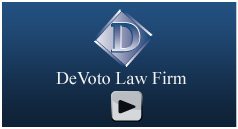 Free Information Package

The Injured Person's Best Guide to Accident Cases in Missouri. Click to view the book or call our office to order your copy.

The Buying Car Insurance in Missouri. Click to view the book or call our office to order your copy.
Testimonials
Tom has represented me on a couple of matters.. Two worker's compensation cases and the accidents that caused my work injuries. He handled my cases quickly and efficiently and although they were not big cases he handled them like they were important cases. If any of my friends or co-workers get injured, I always give them Tom's name.
- O.B.
I was in an industrial accident, stairway collapse, and Tom handled my case against the owner of the building. When the topic of settlement came up before the start of the trial the defense lawyer mentioned a small amount, Later, Tom and I were in the elevator with the defense lawyer and Tom looked at him and said, you're going down. Watching Tom try my case and object and control the evidence was great. The jury gave Tom every single penny that he asked for. Tom and I stay in touch. I call him Big Tom.
Alan C.
"For nearly two decades, Thomas C. DeVoto has made substantial contributions to the continuing legal education of Missouri's attorneys by sharing his experience and knowledge at various Missouri Bar CLE programs."
Read More