St. Louis Medical Malpractice Attorney
Fighting for compensation for seriously injured patients
You and your family place your trust in healthcare providers, relying on their expertise for issues of life and death. When they do not perform up to a professional standard of care, the result can be serious injury or death. For more than 40 years, the DeVoto Law Firm has helped victims of medical malpractice gain compensation for life-altering injuries and wrongful death. We have the knowledge and skill to make your best case for recovery in cases of medical error, including:
Birth injuries
Diagnosis errors

Delayed diagnosis
Failure to order necessary tests
Misdiagnosis
Misreading test results

Laboratory errors
Hospital neglect

Failure to monitor
Failure to inform
Failure to obtain consent

Nursing home negligence

Bed sores
Prescription drug error

Malnutrition and dehydration

Surgical errors

Anesthesia
Incision
Wrong procedure
Wrong side surgery
Postoperative infection
Postoperative failure to monitor

Prescription drug errors

Drug interaction error
Failure to warn of side effects
Wrong dosage
Wrong medication

Medical product defect
The alarming prevalence of fatal, but avoidable, hospital errors
According to the Wall Street Journal, medical errors kill enough patients weekly to fill four jumbo jets. Yet, the majority of these deaths could be avoided by adapting five simple strategies. Read more here.
Thorough investigation and skilled litigation
You can trust our personal injury and wrongful death attorney to treat your medical malpractice case with the highest priority. We put a heavy emphasis on preparation, and begin immediately to gather evidence to support your claim. We have a capable team of investigators with specific knowledge of healthcare protocols and procedures. We seek out witnesses and document their testimony early while memories are fresh. The DeVoto Law Firm never hurries to settle your claim; we protect your interests by thoroughly documenting the extent of your injuries, which may take time to be fully known. Finally, we prepare for trial. In order to obtain full compensation for you, we must be ready to go to court, because only a credible threat of litigation will convince a defendant's insurance company to offer a fair settlement. And, most importantly, if your case needs to be tried we will try it to the best of our ability.
Products liability crossover in medical malpractice cases
A hip or knee replacement can go bad either because of surgical error or product defect. Many medical devices that have been implanted in patients, such as the DePuy hip and the transvaginal mesh, have proven to be faulty and cause great pain for their recipients. Intraocular lenses have been manufactured with serious design defects. In such cases, it's helpful to have an attorney with experience in both medical malpractice and products liability to get to the heart of your case and make your best argument for relief.
Recent law change supports victims of Missouri medical malpractice
In 2005, the Missouri state legislature passed tort reform that capped damages for pain and suffering in medical malpractice cases at $350,000. Since medical malpractice cases are highly technical and often require extensive investigation and analysis by qualified experts, they can be very expensive to prepare. Thus, the ceiling on recovery discouraged lawyers from taking cases, and left many seriously injured patients without experienced representation. Then, in August 2012, the Missouri Supreme Court struck down the law, once again allowing juries to set the amounts of damage awards. Victims of malpractice are now able to retain the services of a leading medical malpractice law firm in St. Louis.
PLEASE NOTE THAT THIS RULING DOES NOT APPLY TO WRONGFUL DEATH CASES THAT ARISE OUT OF MEDICAL MALPRACTICE.
The Missouri Supreme Court based its decision on the so-called Missouri Bill of Rights, which guarantees jury trial in cases at common law. Wrongful death cases are lawsuits that were created by statute. They did not exist at common law. At common law, if you died, your lawsuit died with you. So, for many years, the legislature corrected that problem by allowing survivors to file suit for the death of their loved ones. However, when the laws were first created, they had "caps." For example, in my father's case in 1972, the caps were only $50,000. The caps were removed by the legislature in the late '70s or early '80s.
Contact a medical malpractice attorney in St. Louis
If you or a loved one has been injured by a negligent healthcare provider, call the DeVoto Law Firm. We accept serious medical injury cases throughout Missouri. If the liability or the cause of the damages or death is not clear, we may not take your case, but we will do our best to at least let you know what we believe happened and why we cannot take your case. You can schedule a free consultation and case evaluation by calling us at 314-961-0330 or contacting our St. Louis office online. We're available evenings and weekends and we make house or hospital calls when necessary.
St. Louis Product Liability Attorney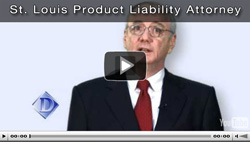 Free Information Package

The Injured Person's Best Guide to Accident Cases in Missouri. Click to view the book or call our office to order your copy.

The Buying Car Insurance in Missouri. Click to view the book or call our office to order your copy.
Testimonials
Tom has represented me on a couple of matters.. Two worker's compensation cases and the accidents that caused my work injuries. He handled my cases quickly and efficiently and although they were not big cases he handled them like they were important cases. If any of my friends or co-workers get injured, I always give them Tom's name.
- O.B.
I was in an industrial accident, stairway collapse, and Tom handled my case against the owner of the building. When the topic of settlement came up before the start of the trial the defense lawyer mentioned a small amount, Later, Tom and I were in the elevator with the defense lawyer and Tom looked at him and said, you're going down. Watching Tom try my case and object and control the evidence was great. The jury gave Tom every single penny that he asked for. Tom and I stay in touch. I call him Big Tom.
Alan C.
"For nearly two decades, Thomas C. DeVoto has made substantial contributions to the continuing legal education of Missouri's attorneys by sharing his experience and knowledge at various Missouri Bar CLE programs."
Read More