St. Louis Amusement Park Injury Attorney
Skilled legal representation for seriously injured patrons
A trip to a theme park can be a wonderful outing with family or friends. However, imaginary peril can become all too real — and rides meant to excite and amuse can turn deadly. Thousands of injuries occur every year in amusement parks throughout the United States. The worst injuries include:
Animal attacks
Broken bones
Severed limbs
Malfunctioning rides: Faulty design, operator error or negligent maintenance
Amusement park rides are complex machines with unique designs, strict operating procedures and regular maintenance schedules. If you were injured in an amusement park incident, proving what went wrong may be the key to your recovery. The DeVoto Law Firm has a reliable team of investigators with expertise in mechanical engineering. Amusement park injury attorney Tom DeVoto has vast experience in complex products liability and personal injury cases. The DeVoto Law Firm has secured jury awards and settlements to fully compensate our seriously injured clients, including many awards in excess of one million dollars.
Prepared to overcome a vigorous defense
A theme park has multiple dimensions apart from its rides: transportation, dining, merchandise sales, traffic and crowd control, first aid and public safety, to name just a few. The major theme parks are like small cities, facing myriad problems and implementing protocols to deal with them. One common problem is litigation of everything from slip and fall injuries to food poisoning. Theme parks view themselves as "deep pocket" defendants that attract frivolous lawsuits, and so they vigorously defend all claims against them.
If you plan to sue a major amusement park, you need a skilled and experienced attorney with the resources to match their legal departments. The DeVoto Law Firm is never quick to accept a settlement, because we have confidence in our ability to prevail in court. If the defense wants to go to trial, they must take into account our impressive record. More often than not, they prefer not to face a jury.
Contact a determined amusement park injury law firm in St. Louis
If you or a loved one has been injured in an amusement park accident, the DeVoto Law Firm can help. We accept serious injury cases throughout Missouri. Schedule a free consultation and case evaluation by calling us at 314-961-0330 or contacting our St. Louis office online. We're available evenings and weekends and we make house or hospital calls when necessary.
St. Louis Product Liability Attorney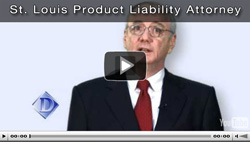 Free Information Package

The Injured Person's Best Guide to Accident Cases in Missouri. Click to view the book or call our office to order your copy.

The Buying Car Insurance in Missouri. Click to view the book or call our office to order your copy.
Testimonials
Tom has represented me on a couple of matters.. Two worker's compensation cases and the accidents that caused my work injuries. He handled my cases quickly and efficiently and although they were not big cases he handled them like they were important cases. If any of my friends or co-workers get injured, I always give them Tom's name.
- O.B.
I was in an industrial accident, stairway collapse, and Tom handled my case against the owner of the building. When the topic of settlement came up before the start of the trial the defense lawyer mentioned a small amount, Later, Tom and I were in the elevator with the defense lawyer and Tom looked at him and said, you're going down. Watching Tom try my case and object and control the evidence was great. The jury gave Tom every single penny that he asked for. Tom and I stay in touch. I call him Big Tom.
Alan C.
"For nearly two decades, Thomas C. DeVoto has made substantial contributions to the continuing legal education of Missouri's attorneys by sharing his experience and knowledge at various Missouri Bar CLE programs."
Read More