St. Louis Warning Cases
Recovery for harm caused by inadequate labeling of unsafe products
There are many products that, though necessary and beneficial, can never be made entirely safe. These include everything from power tools to pharmaceuticals. To protect consumers from harm and themselves from liability, producers of inherently dangerous products are required to affix labels that adequately warn of the dangers these products pose. When a vendor markets an improperly labeled product that harms a consumer in a manner that could have been avoided with proper safety labeling, that vendor can be held liable in a lawsuit, just as if the harm had been caused by a design or manufacturing defect.
For more than 40 years, the DeVoto Law Firm has held producers of inadequately labeled products accountable for harm to consumers, thus improving the level of safety throughout the marketplace. Our St. Louis warning cases include dangerous drug interactions, electrocutions and propane and gas explosions. We have the knowledge and skill to advocate forcefully for your full recovery.
The parameters of proper labeling
What constitutes a proper or adequate label is often a question for a judge or jury. While manufacturers are not required to warn against "obvious" dangers, what is obvious to one consumer may not be so apparent to another. But when manufacturers produce a comprehensive list of every possible danger, the warning may be found inadequate because it's so burdensome that no consumer could be expected to read it. If you need advice about a warning case in St. Louis, you need to speak to an experienced attorney who understands the standards set by government regulations and the industries themselves.
A system of regulation and voluntary compliance
Guidelines for product labels come from government regulations, case law and industry standards. The U.S. Food and Drug Administration writes rules for warning labels for prescription drugs, over-the-counter medication and food products. The American National Standards Institute (ANSI) is a nonprofit organization that provides accreditation for manufacturers in various industries and sets standards for safety labeling in numerous areas, including:
Appliances
Bottled water
Building products
Furniture
Drinking water treatment units
Electrical products
Food service equipment
Gas appliances and accessories

Personal safety equipment
Plumbing products
Sanitation products
Solar energy
Sustainable forestry
Swimming pools, spas and components
Windows and doors
Wood products
Contact a capable warning label law firm in St. Louis
If you or a loved one has been harmed by an inadequately labeled product, the DeVoto Law Firm can help in cases throughout Missouri. Schedule a free consultation and case evaluation by calling us at 314-961-0330 or contacting our St. Louis office online. We're available evenings and weekends and we make house or hospital calls when necessary.
St. Louis Product Liability Attorney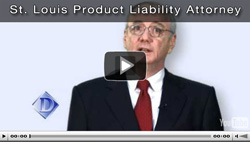 Free Information Package

The Injured Person's Best Guide to Accident Cases in Missouri. Click to view the book or call our office to order your copy.

The Buying Car Insurance in Missouri. Click to view the book or call our office to order your copy.
Testimonials
Tom has represented me on a couple of matters.. Two worker's compensation cases and the accidents that caused my work injuries. He handled my cases quickly and efficiently and although they were not big cases he handled them like they were important cases. If any of my friends or co-workers get injured, I always give them Tom's name.
- O.B.
I was in an industrial accident, stairway collapse, and Tom handled my case against the owner of the building. When the topic of settlement came up before the start of the trial the defense lawyer mentioned a small amount, Later, Tom and I were in the elevator with the defense lawyer and Tom looked at him and said, you're going down. Watching Tom try my case and object and control the evidence was great. The jury gave Tom every single penny that he asked for. Tom and I stay in touch. I call him Big Tom.
Alan C.
"For nearly two decades, Thomas C. DeVoto has made substantial contributions to the continuing legal education of Missouri's attorneys by sharing his experience and knowledge at various Missouri Bar CLE programs."
Read More