St. Louis Multilevel Products Liability Lawyers
Capable representation in complex legal actions
As a general rule, the more complex your case is, the more experienced you need your lawyer to be. In products liability cases, what makes a product dangerous is a defect that can be traced back to the design, the manufacture or the labeling. But what if there are several defects? And what if the product is a complex machine, like a car, with many moving parts, designed, produced and assembled by different subcontractors? Which party produced the defect and is therefore responsible for the harm you suffered?
For more than 40 years, the DeVoto Law Firm has litigated complex products liability lawsuits where the harm was clear, but liability for the defect was difficult to pinpoint. Products liability lawyer Tom DeVoto is a determined advocate whose commitment to his clients drives his thorough investigation of every case. His insatiable curiosity serves his clients well, as he follows the evidence to the party who must be held accountable.
A firm with the resources and staying power
Many firms do not have the resources to investigate a product failure thoroughly. When a large corporation confuses the issue with a multilevel defense, less established firms can be easily overwhelmed. But the DeVoto Law Firm has seasoned investigators and technical experts on call. These forensic professionals have the expertise to get to the bottom of any design or manufacture defect. We never accept a hasty settlement, because we're busy building your strongest case for recovery. Our record of success at trial gives us a solid hand to play in any settlement negotiations.
Your prompt response sets your case in motion
The DeVoto Law Firm is ready to provide you with attentive and competent representation. Your prompt action allows us to preserve evidence and begin our in-depth investigation. But we can't act until you do.
Contact a resourceful products liability law firm in St. Louis
If you or a loved one has suffered harm due to a flawed or defective product, the DeVoto Law Firm can provide you with a free consultation and case evaluation. Call us at 314-961-0330 or contact us online to schedule an appointment. We're available evenings and weekends and we make house or hospital calls when necessary. We accept cases throughout Missouri.
St. Louis Product Liability Attorney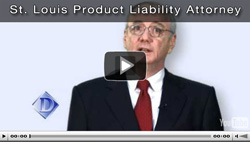 Free Information Package

The Injured Person's Best Guide to Accident Cases in Missouri. Click to view the book or call our office to order your copy.

The Buying Car Insurance in Missouri. Click to view the book or call our office to order your copy.
Testimonials
Tom has represented me on a couple of matters.. Two worker's compensation cases and the accidents that caused my work injuries. He handled my cases quickly and efficiently and although they were not big cases he handled them like they were important cases. If any of my friends or co-workers get injured, I always give them Tom's name.
- O.B.
I was in an industrial accident, stairway collapse, and Tom handled my case against the owner of the building. When the topic of settlement came up before the start of the trial the defense lawyer mentioned a small amount, Later, Tom and I were in the elevator with the defense lawyer and Tom looked at him and said, you're going down. Watching Tom try my case and object and control the evidence was great. The jury gave Tom every single penny that he asked for. Tom and I stay in touch. I call him Big Tom.
Alan C.
"For nearly two decades, Thomas C. DeVoto has made substantial contributions to the continuing legal education of Missouri's attorneys by sharing his experience and knowledge at various Missouri Bar CLE programs."
Read More