Motorcycle Crashes are never "Accidents"! St. Louis Motorcycle Collision Attorney Capable representation for seriously injured motorcyclists
Given the nature of the vehicle, victims of motorcycle crashes often suffer life-changing injuries. Riding with no protective barrier between themselves and other vehicles or the pavement, bikers are at serious risk of traumatic injury, even in low- or moderate-speed collisions. For more than 40 years, the St. Louis motorcycle collision attorney at the DeVoto Law Firm has fought to ensure that injured motorcyclists receive full compensation for their injuries.
Traumatic injuries require compensation for the long term
St. Louis motorcycle collision lawyer Tom DeVoto has vast experience representing parties who've suffered traumatic brain injury, spinal cord injury and burn damage. Sadly, these are the types of injuries most often sustained by motorcyclists. Even the most high-tech helmets cannot fully protect against the sudden deceleration and impact of the head on a solid object. Nor can body armor prevent the spine from being contorted. A leather or Kevlar jacket may reduce the risk of road rash, but denim jeans will not. A skid on hot asphalt could leave burns that necessitate skin grafts.
Fortunately, our personal injury work has fully prepared us to advocate for victims of traumatic injury. Unlike other St. Louis auto collision attorneys, we're never quick to settle. We know that what looks like an attractive offer at first glance may not cover the long-term needs of our client. We realize that it takes time for the extent of traumatic injury to be known. So, rather than close your case hastily and move onto the next, we stay with you until we can project your life-long needs with some certainty and plan your case accordingly.
Skilled investigation ensures your most compelling case presentation
Reconstruction of a motorcycle collision differs greatly from that of a commercial truck collision; skid marks and the debris field must be read differently and interpreted accurately. There is also a subtle prejudice against motorcyclists — i.e., that they are daredevils — that must be overcome with hard evidence. Having practiced personal injury law in St. Louis for so long, the DeVoto Law Firm has a forensic team on call to deploy quickly to an collision scene. We can get there before physical evidence is moved or discarded, and we can get witness testimony on record before their memories of the event have faded. But we cannot act until you do. It's imperative that you call us immediately.
Contact an experienced St. Louis motorcycle crash attorney
If you or a loved one has been seriously injured in a motorcycle collision, contact the DeVoto Law Firm for a free initial consultation. Call us at 314-961-0330 or contact our St. Louis office online.
St. Louis Car Wreck Attorney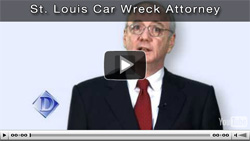 Free Information Package

The Injured Person's Best Guide to Accident Cases in Missouri. Click to view the book or call our office to order your copy.

The Buying Car Insurance in Missouri. Click to view the book or call our office to order your copy.
Testimonials
Tom has represented me on a couple of matters.. Two worker's compensation cases and the accidents that caused my work injuries. He handled my cases quickly and efficiently and although they were not big cases he handled them like they were important cases. If any of my friends or co-workers get injured, I always give them Tom's name.
- O.B.
I was in an industrial accident, stairway collapse, and Tom handled my case against the owner of the building. When the topic of settlement came up before the start of the trial the defense lawyer mentioned a small amount, Later, Tom and I were in the elevator with the defense lawyer and Tom looked at him and said, you're going down. Watching Tom try my case and object and control the evidence was great. The jury gave Tom every single penny that he asked for. Tom and I stay in touch. I call him Big Tom.
Alan C.
"For nearly two decades, Thomas C. DeVoto has made substantial contributions to the continuing legal education of Missouri's attorneys by sharing his experience and knowledge at various Missouri Bar CLE programs."
Read More