Car Collisions are never "accidents"! Experienced St. Louis Car Collision Attorneys Timely action, holding negligent drivers accountable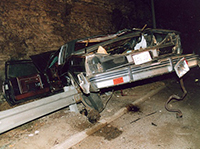 A good lawyer can learn a lot from the crash scene — if he gets there in time. Important evidence is soon cleaned up or towed away. Witnesses are glad to give statements in the immediate aftermath, but their memories and eagerness to help usually fade with time. For more than 40 years, the DeVoto Law Firm has secured favorable verdicts and settlements for all types of motor vehicle accidents, including:
Auto crashes
Truck vs. car collisions
Motorcycle collisions

Pedestrian and bicycle collisions
Drunk driver crashes
SUV rollovers caused by design defects
The DeVoto Law Firm will not back down when an insurance company stonewalls the settlement process, denying our clients full and fair settlements. If they want to try the case, as opposed to settling it fairly out of court, we are both happy and prepared to accommodate them.
We commonly litigate uninsured motorist/underinsured motorist policies if the other driver does not have enough coverage for your injuries and losses. We've also managed several cases involving tanker truck and other fuel explosions.
Diligent investigation to build a case for full damages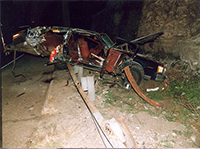 Both Tom DeVoto and professional investigators work to document and preserve evidence at the scene: skid marks and pavement scrapes, debris and fluids, witness accounts. Many newer cars equipped with airbags also have a "black box" data recorder that provides useful information for reconstructing the crash. If the air bags deploy, the onboard black box is triggered and the last few seconds of data is recorded. That information must be obtained and preserved, because the data can be overwritten or the box discarded. For example, the defendant may tell the police or even testify that he or she was going the speed limit, but the black box will prove the driver was speeding, confirming the client's version of the crash.
Even when we aren't summoned immediately, Tom DeVoto likes to visit the scene of a bad collision. In one case, his client was struck by a driver suspected of drinking heavily before the collision. Inspecting the wreckage the next day, Tom DeVoto discovered the woman had vomited in her ashtray. That photo and a little more digging helped bring a successful dram shop lawsuit against the bar for serving alcohol to a clearly intoxicated person.
Capable and competent litigation in serious collision cases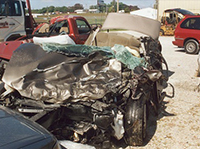 The DeVoto Law Firm has had notable results in cases of car collisions resulting in wrongful death or major and permanent injuries, such as brain damage, spinal injury, broken bones or lost limbs. When the stakes are highest, you need a skilled trial attorney with the experience to confront powerful insurance companies. Tom DeVoto is also a leading St. Louis truck collision lawyer. We accept all collision cases on a contingency basis, so we take no attorney fees unless we recover compensation for you. However, a client may also be responsible for court costs and reasonable fees incurred in developing the case. In certain cases, we also offer a discounted fee structure if the case is settled quickly to help maximize the client's recovery.
For prompt investigation and formidable representation, contact us immediately
Contact the DeVoto Law Firm as soon as possible after your collision. A prompt investigation has many advantages over a cold trail and can make a big difference in your ability to recover full compensation for your serious injuries. Call us any time at 314-961-0330 or contact our St. Louis office online. We make hospital visits or house calls for victims of car collisions in Greater St. Louis and eastern Missouri.
St. Louis Car Wreck Attorney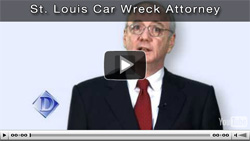 Free Information Package

The Injured Person's Best Guide to Accident Cases in Missouri. Click to view the book or call our office to order your copy.

The Buying Car Insurance in Missouri. Click to view the book or call our office to order your copy.
Testimonials
Tom has represented me on a couple of matters.. Two worker's compensation cases and the accidents that caused my work injuries. He handled my cases quickly and efficiently and although they were not big cases he handled them like they were important cases. If any of my friends or co-workers get injured, I always give them Tom's name.
- O.B.
I was in an industrial accident, stairway collapse, and Tom handled my case against the owner of the building. When the topic of settlement came up before the start of the trial the defense lawyer mentioned a small amount, Later, Tom and I were in the elevator with the defense lawyer and Tom looked at him and said, you're going down. Watching Tom try my case and object and control the evidence was great. The jury gave Tom every single penny that he asked for. Tom and I stay in touch. I call him Big Tom.
Alan C.
"For nearly two decades, Thomas C. DeVoto has made substantial contributions to the continuing legal education of Missouri's attorneys by sharing his experience and knowledge at various Missouri Bar CLE programs."
Read More