St. Louis Personal Injury Attorneys
Proven results in serious injury cases
The DeVoto Law Firm has practiced personal injury litigation for more than 40 years. Our firm has secured millions of dollars in settlements and verdicts on behalf of clients in the St. Louis area and throughout Missouri.
Truck, motorcycle, and car collisions
Uninsured and underinsured motorist collision
Natural gas and propane explosions
Tanker truck explosions
Multilevel product failures
Defective cars
Defective consumer products
Defective industrial tools

Defective design
Inadequate warning cases
Amusement park ride injuries
Medical malpractice
Dangerous drugs
Brain, spinal or burn injuries
Wrongful death
Unique dedication from an attorney on a mission
Our St. Louis personal injury law practice is unique, because personal injury has struck my family and me. As a result of these experiences, we've developed a competent strategy for delivering consistently positive results:
We get Professional investigators to arrive quickly to the scene
We dig deeper to prepare your claim and find insurance coverage
We're willing to go to trial — and insurance companies and large self-insured corporate defendants are aware of this
Even when negligence is glaring, your attorney must be able to go to trial. Without that leverage, the large insurance companies control negotiations. Because of the firm's reputation in the courtroom, the DeVoto Law Firm has been able to convince insurance companies and corporate defendants that they're vulnerable to a large jury award. From there, we're able to obtain full settlements for our injured clients. When we do try cases in court, our skill and preparation get results.
Trusted by knowledgeable professionals
Other attorneys hire the DeVoto Law Firm when their clients, friends or family have suffered a serious personal injury. These frequent referrals are a reflection of our thorough approach, our tenacious representation and the way we take care of people who have suffered a devastating injury.
Legally, we can't say we're the best personal injury or car collision law firm in Missouri. But, before you talk to an insurance adjuster, sign any forms or hire a St. Louis injury attorney for your Missouri collision or malpractice case, take a few minutes to review our web site. Then give us a call.
Free consultations, case evaluations from a qualified St. Louis personal injury attorney
Call the DeVoto Law Firm any time day or night at 314-961-0330 or contact us online to schedule a free consultation and case evaluation, We can arrange evening and weekend consultations, and if you're badly injured, we come to you. We accept injury cases on a contingency basis, so there are no upfront legal fees and you pay us nothing until we obtain compensation for your injuries.
St. Louis Product Liability Attorney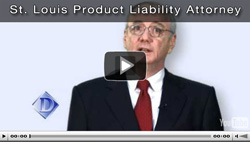 Free Information Package

The Injured Person's Best Guide to Accident Cases in Missouri. Click to view the book or call our office to order your copy.

The Buying Car Insurance in Missouri. Click to view the book or call our office to order your copy.
Testimonials
Tom has represented me on a couple of matters.. Two worker's compensation cases and the accidents that caused my work injuries. He handled my cases quickly and efficiently and although they were not big cases he handled them like they were important cases. If any of my friends or co-workers get injured, I always give them Tom's name.
- O.B.
I was in an industrial accident, stairway collapse, and Tom handled my case against the owner of the building. When the topic of settlement came up before the start of the trial the defense lawyer mentioned a small amount, Later, Tom and I were in the elevator with the defense lawyer and Tom looked at him and said, you're going down. Watching Tom try my case and object and control the evidence was great. The jury gave Tom every single penny that he asked for. Tom and I stay in touch. I call him Big Tom.
Alan C.
"For nearly two decades, Thomas C. DeVoto has made substantial contributions to the continuing legal education of Missouri's attorneys by sharing his experience and knowledge at various Missouri Bar CLE programs."
Read More