St. Louis Defective Consumer Products Lawyer
Compensating injured victims and restoring trust in the market
Consumers have every right to expect that the products they purchase are safe when used as directed. The Consumer Product Safety Commission is charged with regulating standards for product safety, including items as diverse as toys, cribs, power tools, cigarette lighters and household chemicals. Unfortunately, thousands of defective products still make their way onto the market each year. Some are discovered before they do harm and are recalled. Others go unnoticed until tragedy strikes.
For more than 40 years, the DeVoto Law Firm has provided capable and competent legal representation for consumers injured by the products they purchase. By thoroughly investigating and vigorously litigating these cases, we obtain full and fair compensation for our clients and help rid the market of dangerous products. Consumers are commonly injured by hazards that include:
Collapsing furniture
Combustible fuel tanks
Electric shock or burns from appliances
Entrapment by children's furniture
Flammable clothing

Lead paint in children's toys
Sharp edges or blades
Small toy parts that choke
Strangulation from cords or wires
Structural failure
Thorough investigation and a relentless search for the truth
At the DeVoto Law Firm, the key to our success is diligent preparation, which includes an in-depth investigation into your circumstances as well as the history of the product that caused your injury. Many law firms handling St. Louis defective consumer products cases lack our resources. As a result, they are quick to settle cases, rather than square off in court with a powerful corporation. Trial attorney Tom DeVoto has a sterling reputation at court, which includes many million-dollar-plus verdicts. Since we have no reason to fear court, we have leverage to get the best settlement offer possible and, if necessary, try the case before a jury. You can expect the same dedicated advocacy if you have a defective industrial tool case in St. Louis.
Comparative fault in St. Louis products liability cases
Product liability ensures that companies can be held accountable whether they knew about the defect or not. However, the company may shed some, if not all, responsibility if the consumer has modified the product in some manner that makes it more dangerous, or uses it in a way that was clearly unintended. Under the system of comparative fault, a consumer would have to be less than 50 percent responsible for the harm to recover anything at all. Of course, whether a modification had any effect on the safety of the product is a question of fact for a judge or jury to decide. An experienced St. Louis defective product attorney can assess your circumstances to see if you have a viable case for recovery.
Contact a seasoned products liability lawyer in St. Louis
If you or a loved one has been injured by a defective consumer product, the DeVoto Law Firm is here to help. See us for a free consultation and case evaluation. Call 314-961-0330 or contact us online to schedule an appointment. We're available evenings and weekends and we make house or hospital calls when necessary. We accept cases throughout Missouri.
St. Louis Product Liability Attorney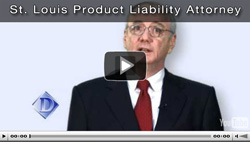 Free Information Package

The Injured Person's Best Guide to Accident Cases in Missouri. Click to view the book or call our office to order your copy.

The Buying Car Insurance in Missouri. Click to view the book or call our office to order your copy.
Testimonials
Tom has represented me on a couple of matters.. Two worker's compensation cases and the accidents that caused my work injuries. He handled my cases quickly and efficiently and although they were not big cases he handled them like they were important cases. If any of my friends or co-workers get injured, I always give them Tom's name.
- O.B.
I was in an industrial accident, stairway collapse, and Tom handled my case against the owner of the building. When the topic of settlement came up before the start of the trial the defense lawyer mentioned a small amount, Later, Tom and I were in the elevator with the defense lawyer and Tom looked at him and said, you're going down. Watching Tom try my case and object and control the evidence was great. The jury gave Tom every single penny that he asked for. Tom and I stay in touch. I call him Big Tom.
Alan C.
"For nearly two decades, Thomas C. DeVoto has made substantial contributions to the continuing legal education of Missouri's attorneys by sharing his experience and knowledge at various Missouri Bar CLE programs."
Read More