St. Louis Defective Car Liability Lawyers
Competent representation for serious injuries due to mechanical failures
We in America have become so dependent on our cars that an automobile product defect can have serious and far-reaching repercussions. An automobile defect, such as Toyota's stuck accelerator pedal, which recently made headlines, may not be discovered until thousands of affected cars are on the road. This presents a hazard to the owners of those vehicles, their passengers and any other cars, trucks or pedestrians they might impact. Auto manufacturers know the extent of their vulnerability and vigorously defend every product defect claim. For your claim to be successful, you need an experienced attorney with the knowledge and resources to confront major international corporations.
Experienced St. Louis auto defect attorneys
Your St. Louis car collision attorney must determine causation. Often the cause of an accident is an auto defect. For more than 40 years, the DeVoto Law Firm has fought for consumers victimized by defective automobiles and parts. We've confronted major manufacturers with extensive resources dedicated to defending liability lawsuits — and we've managed to deliver consistently positive results for our clients, including jury awards and settlements in excess of one million dollars. Our thorough preparation, which includes in-depth investigation and consultation with qualified experts, prepares us for trial and allows us to negotiate from strength.
Recalls: corrections made after the fact
If you've purchased a defective car in St. Louis, and you're lucky, you may receive a recall notice. This means that the manufacturer has become aware of a safety problem that may affect your car. This discovery may have occurred during testing, or only after several failures of vehicles on the road. So, if you've been injured by a defective car, it may be one that the manufacturer should have recalled.
A recall can be very expensive, so manufacturers hesitate to do it unless the defect exposes the company to greater expense through liability for potential lawsuits. If your car's manufacturer knew or should have known of safety defects in your car but failed to issue a recall, that's something you need to know before you settle. As a leading St. Louis products liability law firm, the DeVoto Law Firm gets to the bottom of auto defect cases. Our professional team of investigators can uncover the compelling facts necessary to win compensation for you.
Contact a resourceful products liability law firm in St. Louis
If you or a loved one has suffered harm due to a flawed or defective product, the DeVoto Law Firm can provide you with a free consultation and case evaluation. Call us at 314-961-0330 or contact us online to schedule an appointment. We're available evenings and weekends and we make house or hospital calls when necessary. We accept cases throughout Missouri.
St. Louis Car Wreck Attorney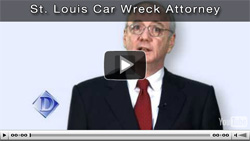 Free Information Package

The Injured Person's Best Guide to Accident Cases in Missouri. Click to view the book or call our office to order your copy.

The Buying Car Insurance in Missouri. Click to view the book or call our office to order your copy.
Testimonials
Tom has represented me on a couple of matters.. Two worker's compensation cases and the accidents that caused my work injuries. He handled my cases quickly and efficiently and although they were not big cases he handled them like they were important cases. If any of my friends or co-workers get injured, I always give them Tom's name.
- O.B.
I was in an industrial accident, stairway collapse, and Tom handled my case against the owner of the building. When the topic of settlement came up before the start of the trial the defense lawyer mentioned a small amount, Later, Tom and I were in the elevator with the defense lawyer and Tom looked at him and said, you're going down. Watching Tom try my case and object and control the evidence was great. The jury gave Tom every single penny that he asked for. Tom and I stay in touch. I call him Big Tom.
Alan C.
"For nearly two decades, Thomas C. DeVoto has made substantial contributions to the continuing legal education of Missouri's attorneys by sharing his experience and knowledge at various Missouri Bar CLE programs."
Read More