St. Louis Defective Industrial Tools Attorney
Compensating injured workers and enforcing safety standards
Workers who are seriously injured by industrial machinery may feel their only recourse is a claim through workers compensation. Unfortunately, workers comp only reimburses you for medical bills and earnings losses; it does not compensate for damages such as pain and suffering. On the other hand, you may recover for pain and suffering in a products liability lawsuit. Such an action may be appropriate if there was a defect in the design or manufacture of the industrial equipment that caused your injury.
For more than 40 years, the DeVoto Law Firm has assisted Missouri workers who've been injured by faulty industrial machinery and tools. St. Louis defective product lawyer Tom DeVoto has secured full compensation for clients in countless personal injury cases, including several jury awards in excess of one million dollars. Our firm is prepared to represent clients injured in industrial accidents involving:
Assembly lines
Backhoes
Bulldozers
Conveyor belts
Cranes
Die-casting machines

Earth compactors
Forklifts
Furnaces
Drills and boring machines
Grinders
Lathes

Ovens
Punch presses
Saws
Textile machinery
Press brake
Injection molding machinery
Obstacles and advantages to a products liability case
In the case of defective consumer product, the designer, manufacturer and seller are generally held to a standard of strict liability. This standard tends to favor plaintiffs, who do not have to prove negligence on the part of the defendant, only that the product had a flaw that made it dangerous. While the strict liability standard still applies to companies that sell industrial machinery, it may not apply to machinery a company builds or subcontracts to be built within its own factories. For those cases, your attorney would have to prove negligence.
On the plus side, industrial machinery defect cases have some unique wrinkles that favor plaintiffs. For instance, a machine may be without defect, but if it is located so closely to another machine that the risk of injury increases, the mere location of the machine can be treated as a design defect. Also, even though the law recognizes that industrial accidents will happen even where machine defects do not exist, it recognizes a duty of the defendant to minimize risk after an accident with devices such as kill switches to stop machinery while an injury is occurring. The court may rule that the absence of a kill switch is a design defect that worsened an accident, allowing the plaintiff to recover damages.
For the best representation in a defective industrial tools case in St. Louis, you need an attorney with firm knowledge of the law and a track record of success litigating personal injury claims.
Contact a capable industrial injury lawyer in St. Louis
If you or a loved one has been injured by defective industrial machinery, the DeVoto Law Firm can help. For a free consultation and case evaluation, call 314-961-0330 or contact us online. We're available evenings and weekends and we make house or hospital calls when necessary. We accept cases throughout Missouri.
St. Louis Product Liability Attorney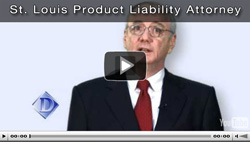 Free Information Package

The Injured Person's Best Guide to Accident Cases in Missouri. Click to view the book or call our office to order your copy.

The Buying Car Insurance in Missouri. Click to view the book or call our office to order your copy.
Testimonials
Tom has represented me on a couple of matters.. Two worker's compensation cases and the accidents that caused my work injuries. He handled my cases quickly and efficiently and although they were not big cases he handled them like they were important cases. If any of my friends or co-workers get injured, I always give them Tom's name.
- O.B.
I was in an industrial accident, stairway collapse, and Tom handled my case against the owner of the building. When the topic of settlement came up before the start of the trial the defense lawyer mentioned a small amount, Later, Tom and I were in the elevator with the defense lawyer and Tom looked at him and said, you're going down. Watching Tom try my case and object and control the evidence was great. The jury gave Tom every single penny that he asked for. Tom and I stay in touch. I call him Big Tom.
Alan C.
"For nearly two decades, Thomas C. DeVoto has made substantial contributions to the continuing legal education of Missouri's attorneys by sharing his experience and knowledge at various Missouri Bar CLE programs."
Read More