St. Louis Gas & Propane Explosions
Proven advocacy for serious injuries and property loss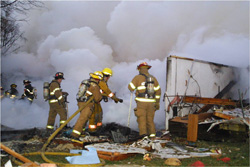 People died. Others were horribly burned. Houses were destroyed. Afterwards, the DeVoto Law Firm was there to hold the gas companies and manufacturers accountable. Drawing on more than 40 years of experience, trial lawyer Tom DeVoto has obtained substantial settlements in high-profile cases of propane and natural gas explosions. If your loved one was injured or killed by a gas-induced fire or explosion, our firm has the knowledge and skill to help.
Lives are shattered when gas leaks ignite
The DeVoto Law Firm has recovered damages for severe burn injury, head trauma, lung damage and other catastrophic injury, and represented families in wrongful death lawsuits and property damage claims due to St. Louis natural gas explosions and propane explosions in St. Louis. Our cases include these scenarios:
A deadly buildup of natural gas from a leaking gas line exploded; a woman who was 8-1/2 months pregnant burned to death.
A natural gas leak from an improperly installed and defective gas line coupling device caused a house fire that badly burned the owners' three children.
A leaking propane line in a restaurant caused gas to build up and explode when a man went to the basement to light a cigarette. The whole building went up, killing several people.
Gasoline tankers exploded when gas was improperly pumped from a truck into a holding tank, causing fugitive gas fumes or actual fuel to descend on the tractor.
We have held major gas companies, installers and manufacturers accountable for their share of liability in these tragedies.
Thorough investigation and the knowledge to win
Most victims never have a chance. Leaking gas tends to snake along the surface of pipelines right into the building. The slightest spark (a match, a pilot light, a flick of a light switch) can ignite a deadly blast.
Both natural gas and propane system explosions come with some of the same questions. Our investigation starts with two questions: What caused the leak, and why didn't anyone smell the gas? Natural gas and propane are odorless, so gas companies add mercaptan, the telltale "rotten egg" odorant. But when gas escapes a leaky pipe or connection, mercaptan can be absorbed by soil or building materials, rendering the gas odorless. When leaking gas goes undetected, it poses another question: Was the system installed properly?
Electricity in the ground can attack an underground metal pipe, causing a leak; this creates a particularly dangerous condition in cold weather, because the natural gas cannot vent itself through the ground and will follow the line of the pipe into the building. When a leaky pipe is to blame, we must ask: Did propane tanks or natural gas lines contain the required cathodic protection against electric current?
Metal pipes are prone to corrosion leaks. Plastic pipes are not — if assembled correctly. We need to know what components were used in the pipes and when they were last inspected.
We put together a crack team of investigators to gather evidence, and we hire industry experts to testify about the cause. Attorney Tom DeVoto has a thorough understanding of the science and technology of gas explosions, and a knack for explaining it all to a jury. The DeVoto Law Firm also has vast experience in cases of tanker truck explosions.

Contact our diligent gas explosion attorney in St. Louis
To schedule a free initial consultation, call the DeVoto Law Firm at 314-961-0330 or contact our office online. We make home and hospital visits when necessary. We take no attorney fees unless we settle your claim or prevail at trial. In the event money is recovered, the client may also be responsible for court costs and expenses incurred in developing the case.
St. Louis Product Liability Attorney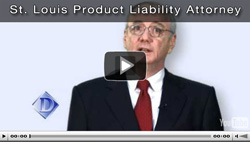 Free Information Package

The Injured Person's Best Guide to Accident Cases in Missouri. Click to view the book or call our office to order your copy.

The Buying Car Insurance in Missouri. Click to view the book or call our office to order your copy.
Testimonials
Tom has represented me on a couple of matters.. Two worker's compensation cases and the accidents that caused my work injuries. He handled my cases quickly and efficiently and although they were not big cases he handled them like they were important cases. If any of my friends or co-workers get injured, I always give them Tom's name.
- O.B.
I was in an industrial accident, stairway collapse, and Tom handled my case against the owner of the building. When the topic of settlement came up before the start of the trial the defense lawyer mentioned a small amount, Later, Tom and I were in the elevator with the defense lawyer and Tom looked at him and said, you're going down. Watching Tom try my case and object and control the evidence was great. The jury gave Tom every single penny that he asked for. Tom and I stay in touch. I call him Big Tom.
Alan C.
"For nearly two decades, Thomas C. DeVoto has made substantial contributions to the continuing legal education of Missouri's attorneys by sharing his experience and knowledge at various Missouri Bar CLE programs."
Read More