St. Louis Workers Compensation Attorney
Skilled protection of injured workers
It should be simple: When you're injured at work, you expect your employer's insurance carrier to pay your medical bills and lost wages. In reality, you may need an attorney to enforce your rights and secure all the compensation to which you are entitled. The DeVoto Law Firm has practiced injury law for more than 40 years, including hundreds of workers compensation cases resolved in our clients' favor. We handle every type of work-related claim:
Falls, back injuries, broken bones and other injuries
Injuries from machinery or heavy equipment
Occupational illness (repetitive stress injury, chemical exposure)
Permanent partial disability (e.g., severed fingers, nerve damage)
Permanent total disability (permanently disabled from any gainful employment)
Disfigurement settlements
Death benefits
We know the system. We know your rights.
Our personal injury law firm is thoroughly familiar with the Missouri workers compensation system. Tom DeVoto handles the tough cases when clients are told their injury is not serious or not work-related, or they are ordered back to work before they are healed. If your workers comp claim is rejected as noncompensable or your employer terminates coverage, your own health insurance may refuse to cover your bills — leaving you on the hook for thousands of dollars in medical expenses.
Tom DeVoto can help you fight back. We hire physicians and medical experts to get your injury properly rated for trial or settlement negotiations.
Additional recovery through a third-party claim
There are many circumstances under which you may be entitled to bring a personal injury lawsuit against another person or entity above and beyond your workers' compensation benefits:
A car driver hits you while you are on duty (auto liability)
Defective workplace machinery causes injury (product liability)
A safety hazard causes a slip and fall during a delivery (premises liability)
The negligence of another subcontractor on a construction site causes your injury
The St. Louis injury attorneys at the DeVoto Law Firm explore every possible source of compensation, and fight tooth and nail to hold employers accountable for state-mandated coverage.
Contact our St. Louis law office for a free workers comp case evaluation
The DeVoto Law Firm takes no attorney fees unless we settle your claim or prevail at trial. For competent representation of employees across Greater St. Louis and surrounding counties of eastern Missouri, call today at 314-961-0330 or contact our office online. In the event money is recovered, the client may also be responsible for court costs and expenses incurred in developing the case.
St. Louis Workers Comp Attorney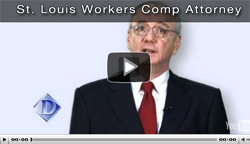 Free Information Package

The Injured Person's Best Guide to Accident Cases in Missouri. Click to view the book or call our office to order your copy.

The Buying Car Insurance in Missouri. Click to view the book or call our office to order your copy.
Testimonials
Tom has represented me on a couple of matters.. Two worker's compensation cases and the accidents that caused my work injuries. He handled my cases quickly and efficiently and although they were not big cases he handled them like they were important cases. If any of my friends or co-workers get injured, I always give them Tom's name.
- O.B.
I was in an industrial accident, stairway collapse, and Tom handled my case against the owner of the building. When the topic of settlement came up before the start of the trial the defense lawyer mentioned a small amount, Later, Tom and I were in the elevator with the defense lawyer and Tom looked at him and said, you're going down. Watching Tom try my case and object and control the evidence was great. The jury gave Tom every single penny that he asked for. Tom and I stay in touch. I call him Big Tom.
Alan C.
"For nearly two decades, Thomas C. DeVoto has made substantial contributions to the continuing legal education of Missouri's attorneys by sharing his experience and knowledge at various Missouri Bar CLE programs."
Read More