St. Louis Brain, Spine & Burn Injury Attorney
Personal injury trial lawyer manages catastrophic events
In cases of life-changing injuries, some lawyers are too quick to settle. As a result, their clients receive an award that looks good at present, but will not provide for them adequately in the future. At the DeVoto Law Firm, we take time to ensure that the full extent of a burn injury, brain injury or other permanent harm is known. Then we painstakingly document a claim that will meet the long-term needs of our client. In more than 40 years of personal injury litigation, trial lawyer Tom DeVoto has secured many verdicts and settlements that ease the burdens of clients living with permanently disabling injuries.
You must act immediately. No matter how severe the injuries, our ability to win maximum damages depends on getting to the scene to preserve important evidence.
Burn injury
Tom DeVoto has handled high-profile cases of burn injury in St. Louis involving gasoline tanker, propane tank and natural gas explosions. Some clients require years of painful skin grafts, reconstructive surgery and physical rehab. Many are horribly disfigured or disabled, confined to temperature-controlled environments for the rest of their lives.
A personal stake in traumatic brain injury cases
As my introductory video explains, my daughter suffered a terrible traumatic brain injury. These are tough cases. Sometimes the disability is obvious — seizures, mental incompetence, slurred speech and reduced motor function. Other times, the effects are more subtle — headaches and vertigo, short-term memory loss, personality change and depression.
A St. Louis brain injury attorney at the DeVoto Law Firm carefully monitors client progress and works with doctors and families to document the impact of brain damage on daily living. Compensation is essential to cover the costs of medications, psychological counseling, physical therapy or 24-hour nursing care.
Spinal cord injury
St. Louis spine injury attorney Tom DeVoto knows there are degrees of spinal cord damage, depending on where in the back or neck the trauma occurred. Some people will live with disabling back pain, unable to lift more than five pounds or sit for long periods. Profound spinal cord injuries result in loss of use of limbs (paraplegic/quadriplegic), loss of sensation and inability to control breathing or bodily functions.
Awards that meet your long-term needs
Our St. Louis injury law firm uses life-care planners, economists and other experts to fully project lost earnings, "present cost of future medicals" and other needs, such as home modifications and around-the-clock care. We seek maximum damages for pain and suffering, and loss of enjoyment of life. The insurance company will contest these elements, but we document life before and after the accident, and hire experts to testify that both your emotional pain and physical pain are real.
Contact our dedicated personal injury attorney for your catastrophic collision case
If your loved one suffered a burn, brain, spinal or other catastrophic injury, we do everything we can to improve life for the victim and family in the difficult years ahead. Call the DeVoto Law Firm at 314-961-0330 or contact us online to schedule a free initial consultation.
St. Louis Product Liability Attorney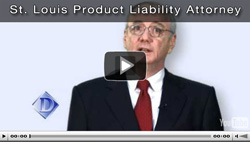 Free Information Package

The Injured Person's Best Guide to Accident Cases in Missouri. Click to view the book or call our office to order your copy.

The Buying Car Insurance in Missouri. Click to view the book or call our office to order your copy.
Testimonials
Tom has represented me on a couple of matters.. Two worker's compensation cases and the accidents that caused my work injuries. He handled my cases quickly and efficiently and although they were not big cases he handled them like they were important cases. If any of my friends or co-workers get injured, I always give them Tom's name.
- O.B.
I was in an industrial accident, stairway collapse, and Tom handled my case against the owner of the building. When the topic of settlement came up before the start of the trial the defense lawyer mentioned a small amount, Later, Tom and I were in the elevator with the defense lawyer and Tom looked at him and said, you're going down. Watching Tom try my case and object and control the evidence was great. The jury gave Tom every single penny that he asked for. Tom and I stay in touch. I call him Big Tom.
Alan C.
"For nearly two decades, Thomas C. DeVoto has made substantial contributions to the continuing legal education of Missouri's attorneys by sharing his experience and knowledge at various Missouri Bar CLE programs."
Read More