Truck Collisions Are Never "Accidents"!
St. Louis Truck Collision Attorney
Personal injury litigation in Missouri Trucking Collison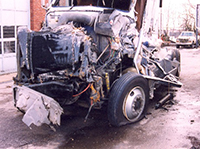 St. Louis is a major crossroads for commercial hauling. If your loved one had the misfortune of tangling with a 40-ton semi truck, we know it likely resulted in devastating injury or fatality. You need an attorney who understands how the trucking industry works, who knows the federal regulations and who can hold trucking companies accountable. The DeVoto Law Firm has secured substantial settlements and verdicts, including an award of more than $1 million. As an experienced St. Louis truck collision lawyer this office assembles every case as if it will go to trial.
Proving negligence in trucking collisions
Your recovery could come down to one simple question: Was the trucker at fault? The experienced team at the DeVoto Law Firm knows what to look for at the scene of the truck accident. We document skid marks, positions of the vehicles, and road and weather conditions. We have also used computer-generated reconstructions to clearly demonstrate to the jury what happened and, most importantly, why it happened. We get witness statements while the traumatic events are fresh in their minds.
Prompt investigation is critical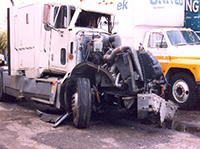 Important evidence disappears quickly. We get professional investigators or the trucking company itself to the scene immediately to build a case for maximum compensation. Inspection of the truck is crucial. The "black box" data recorder yields important evidence about speed and change of velocity at impact to help reconstruct the crash. Were the truck tires bald? Were the brakes bad? Was the 18-wheeler's freight unbalanced or poorly secured? Trucks' so-called black boxes are different from passenger cars' black boxes, but they still have important data about the engine. The truck's black box is tied to the engine data. A passenger car's black box is tied much more to data than engine speed, but getting the information from the truck's engine can still be critical. A passenger vehicle's black box is tied to the deployment of the air bags. Since truck black boxes are tied to the engines, if the data is not downloaded within a certain cycle of engine starts, it will be lost forever.
Trucking companies act quickly to get tractor-trailers fixed and back on the road. Sometimes they destroy evidence in the process — off-loading freight or failing to pressurize the locked air brakes to back them off from the wheels and then "cage" them so the settings can be analyzed. Worse yet, they simply "adjust" the brake settings, destroying the evidence of the settings at the time of the accident. This is why we need to be at the scene as soon as practicable to try and preserve evidence, or at the very least to try and document not only what caused the collision, but what the trucking company's on-scene investigators did or did not do to preserve the evidence.
Truckers (often with the consent of their employers) are known to falsify logs to get around federal limits on hours behind the wheel. We work to prove the driver was fatigued, speeding, violating traffic laws or otherwise negligent.
Fighting for full compensation
Commercial trucks are well insured, but insurance companies still fight legitimate claims, especially high payouts for catastrophic injuries or a wrongful death. As an experienced St. Louis truck collision lawyer this office assembles every case as if it will go to trial. Our thoroughly documented claims and courtroom reputation often bring the trucking company and its insurer to the negotiating table to produce a fair settlement for our clients. The same competent legal service is available to clients seeking a St. Louis motorcycle collision lawyer.
"Contact a trained and experienced truck collision attorney in St. Louis
For a free consultation and evaluation of your truck collision case, call us at 314-961-0330 orcontact our St. Louis office online. The DeVoto Law Firm offers a free initial consultation, including home and hospital visits. We take no attorney fees unless we settle your claim or prevail at trial. In the event money is recovered, the client may also be responsible for court costs and expenses incurred in developing the case.
St. Louis Car & Truck Wreck Attorney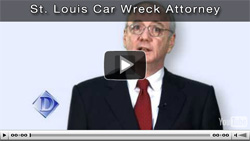 Free Information Package

The Injured Person's Best Guide to Accident Cases in Missouri. Click to view the book or call our office to order your copy.

The Buying Car Insurance in Missouri. Click to view the book or call our office to order your copy.
Testimonials
Tom has represented me on a couple of matters.. Two worker's compensation cases and the accidents that caused my work injuries. He handled my cases quickly and efficiently and although they were not big cases he handled them like they were important cases. If any of my friends or co-workers get injured, I always give them Tom's name.
- O.B.
I was in an industrial accident, stairway collapse, and Tom handled my case against the owner of the building. When the topic of settlement came up before the start of the trial the defense lawyer mentioned a small amount, Later, Tom and I were in the elevator with the defense lawyer and Tom looked at him and said, you're going down. Watching Tom try my case and object and control the evidence was great. The jury gave Tom every single penny that he asked for. Tom and I stay in touch. I call him Big Tom.
Alan C.
"For nearly two decades, Thomas C. DeVoto has made substantial contributions to the continuing legal education of Missouri's attorneys by sharing his experience and knowledge at various Missouri Bar CLE programs."
Read More