St. Louis Defective Design Attorneys
Compensation for serious injuries caused by dangerous products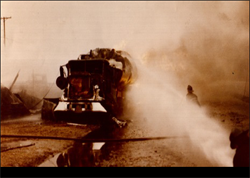 The DeVoto Law Firm has a long record of success representing plaintiffs who've suffered personal injury or property loss due to flaws in a product's design. For more than 40 years, we've been able to recover monetary damage awards for our clients and ensure a greater level of safety for consumers in the marketplace. The cases we've managed include defective design of the following:
Air bags
Amusement park rides
Auto parts
Component parts
Consumer appliances (shock and fire hazards)
Diesel engines
Furniture
Industrial and farm machinery

Ladders
Medical devices
Power tools
Seat belts
SUVs prone to rollovers
Tires
Industrial power equipment and tools
What is a design defect?
A design defect exists in a product when the foreseeable risks could have been reduced or avoided by making reasonable changes. A classic case is a crib with slats far enough apart that a baby's head can get stuck between them, trapping the child and causing suffocation. By simply moving the slats closer together, the manufacturer could have eliminated this hazard. The court uses a cost-benefit analysis to determine whether an alteration in the design is reasonable. In the crib example, adding one or two slats to the total number is certainly a reasonable cost, given the resulting benefit.
Analysis becomes more difficult in St. Louis defective design cases involving high-tech or industrial products. The burden can fall on the plaintiff to demonstrate that a reasonable alternative design exists. Fortunately, attorney Tom DeVoto has qualified experts ready to assist in assessing your design defect claim. We also manage St. Louis warning cases stemming from inadequate labeling of dangerous products.
Professional liability for design defects that cause damage to property
Commercial property developers rely on architects and engineers to produce elegant and functional designs. When a drawing that looks good on paper turns into a mess in concrete and steel, the developer could suffer catastrophic losses. The contractor would likely be the first suspect, but if he built the project according to specifications, this would be a case of design defect; the architect or engineer could be on the hook for professional malpractice. The DeVoto Law Firm assists commercial developers in cases of product defect that damage their properties and businesses. Depending on the size of the claim, our St. Louis defective design attorneys work on an hourly fee arrangement or contingency.
Contact a capable design defect lawyer in St. Louis
If you or a loved one has been injured by a badly designed product, the DeVoto Law Firm is available to help. We accept cases throughout Missouri. Schedule a free consultation and case evaluation by calling us at 314-961-0330 or contacting us online. We're available evenings and weekends and we make house or hospital calls when necessary.
St. Louis Product Liability Attorney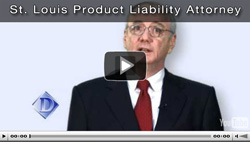 Free Information Package

The Injured Person's Best Guide to Accident Cases in Missouri. Click to view the book or call our office to order your copy.

The Buying Car Insurance in Missouri. Click to view the book or call our office to order your copy.
Testimonials
Tom has represented me on a couple of matters.. Two worker's compensation cases and the accidents that caused my work injuries. He handled my cases quickly and efficiently and although they were not big cases he handled them like they were important cases. If any of my friends or co-workers get injured, I always give them Tom's name.
- O.B.
I was in an industrial accident, stairway collapse, and Tom handled my case against the owner of the building. When the topic of settlement came up before the start of the trial the defense lawyer mentioned a small amount, Later, Tom and I were in the elevator with the defense lawyer and Tom looked at him and said, you're going down. Watching Tom try my case and object and control the evidence was great. The jury gave Tom every single penny that he asked for. Tom and I stay in touch. I call him Big Tom.
Alan C.
"For nearly two decades, Thomas C. DeVoto has made substantial contributions to the continuing legal education of Missouri's attorneys by sharing his experience and knowledge at various Missouri Bar CLE programs."
Read More