The DeVoto Law Firm
Experience and the results to show for it
The DeVoto Law Firm is a leader in Missouri personal injury and wrongful death litigation in the greater St. Louis metro area. We have obtained notable results in a wide range of cases: product liability, propane and natural gas explosions, auto and truck accidents and more.
St. Louis personal injury lawyer Tom DeVoto has secured favorable verdicts and settlements, including many awards of more than $1 million in complex, high-profile cases. He brings more than 40 years of experience to your personal injury litigation. As one of the most experienced St. Louis trial lawyers, Tom DeVoto personally visits collision scenes and defective product inspections to guide the investigation and form the nucleus of his proven litigation strategies.
Prompt attention to you and your case
As St. Louis injury lawyers, we pride ourselves on taking care of our clients. If you're having problems with the insurance company, medical providers or creditors while your case is pending, we can help. We explain your rights and protect them. We help you make an informed decision about taking the insurance company's settlement offer versus going to trial. We're always available to answer your questions and address your concerns.
Part of serving our clients is building the best possible case from the ground up. We have professional investigators and collision reconstructionists at our fingertips to rapidly respond to collision scenes in order to get witness statements and gather evidence.
Prepared to competently present your case for settlement or, if necessary, to try it to a conclusion
Unless your attorney is willing to go to court and finish what he or she has started — with well-prepared and compelling arguments for a jury — the defense has very little to cause them to want to settle out of court. Our St. Louis personal injury law office tries cases successfully, and insurance companies and their lawyers are well aware of Tom DeVoto's exemplary trial record. Rather than place their fate in the hands of a jury, they'll usually meet us at the negotiating table and offer a fair settlement. That's why other attorneys hire or refer us when their clients, friends or family suffer serious injury.
We're ready when you are
We can't stress enough the importance of reasonably prompt action to preserve evidence. But we understand that choosing an attorney is an important decision. We have a 24-hour answering system, and we do our best to promptly return your calls. Just like all the other personal injury, wrongful death, and workers compensation attorneys, the DeVoto Law Firm provides a free initial consultation, including evenings, weekends or hospital visits by appointment. If you are ready to hire a personal injury law firm in St. Louis that is proven, trusted and recognized by other lawyers, as well as committed to your maximum compensation, call 314-961-0330 or contact our office online.
St. Louis Product Liability Attorney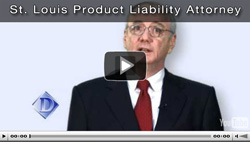 Free Information Package

The Injured Person's Best Guide to Accident Cases in Missouri. Click to view the book or call our office to order your copy.

The Buying Car Insurance in Missouri. Click to view the book or call our office to order your copy.
Testimonials
Tom has represented me on a couple of matters.. Two worker's compensation cases and the accidents that caused my work injuries. He handled my cases quickly and efficiently and although they were not big cases he handled them like they were important cases. If any of my friends or co-workers get injured, I always give them Tom's name.
- O.B.
I was in an industrial accident, stairway collapse, and Tom handled my case against the owner of the building. When the topic of settlement came up before the start of the trial the defense lawyer mentioned a small amount, Later, Tom and I were in the elevator with the defense lawyer and Tom looked at him and said, you're going down. Watching Tom try my case and object and control the evidence was great. The jury gave Tom every single penny that he asked for. Tom and I stay in touch. I call him Big Tom.
Alan C.
"For nearly two decades, Thomas C. DeVoto has made substantial contributions to the continuing legal education of Missouri's attorneys by sharing his experience and knowledge at various Missouri Bar CLE programs."
Read More